MILLENNIUM DANCE COMPLEX LAS VEGAS PRESENTS THE COMPANY AND MDCLV CREW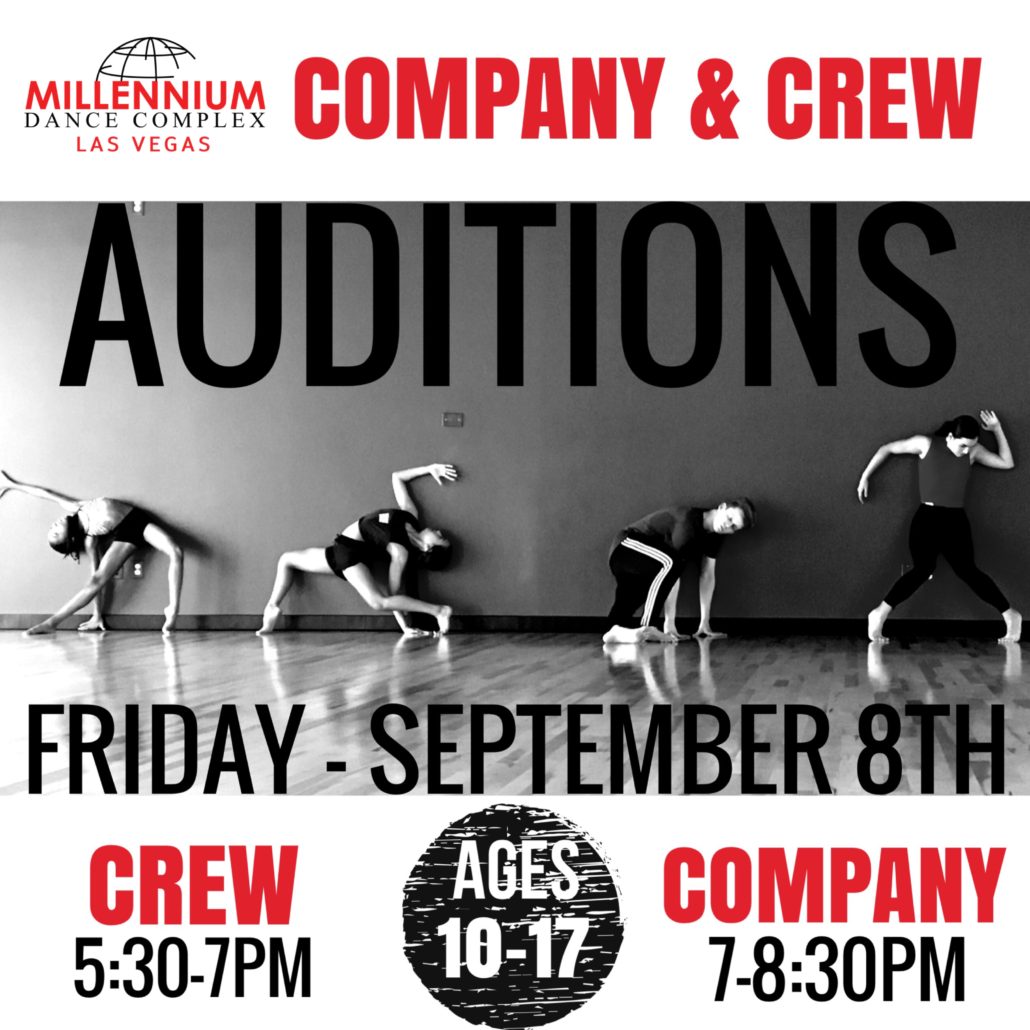 SECOND AUDITIONS:
September 8, 2017
Please bring a headshot to the audition. There will also be a $30 Audition Fee that will be collected at sign-in.
5:00pm                    Check-in and Registration
5:30-7:00pm           Crew Audition
7:00-8:30pm           Company Audition
For questions and more info, please email cc.mdclv@gmail.com.
Register Here:
Millennium Dance Complex Las Vegas welcomes "The COMPANY" and "MDCLV Crew". These junior dance programs are designed for young dancers that are eager to improve their technique and performance abilities to become a dancer-in-demand!
THE COMPANY– these talented dancers will receive extensive training in multiple styles and techniques, which include ballet, contemporary, jazz, modern, tap, improv, and more.
MDCLV CREW – these talented dancers will receive extensive training in multiple forms of hip hop, which include house, locking, popping, break dancing, grooves, and freestyling to name a few.
We are seeking advanced dancers, ages 10-17 for "The COMPANY," and for "MDCLV Crew". Both companies require students to train daily, 6-12 hours per week, in a program tailor made for the needs of the members. Students will have performance opportunities, participate in conventions, film concept videos with established choreographers, and other industry events.
Why join Millennium?
We strive for all members to evolve and maximize their individual talent. We promote and influence all members to learn discipline, responsibility, teamwork and self-confidence. The Millennium experience promotes unity in diversity, professionalism and has an exceptional group of accomplished choreographers, teachers and mentors to guide students through this extensive training. These instructors actively work and/or are connected to the performing arts and commercial industries; backed by the Millennium name, a company known for its excellence in the dance world.
Arts education ignites creativity, self-confidence and discipline that can lead to exceptional careers. Are you ready for the ultimate experience – The Millennium Experience?
Requirements:
If accepted to the company and/or crew the contract is for one season, from August 2017 – July 2018. There is an annual fee that covers team gear and a monthly tuition fee that covers the required classes per week. The tuition, also allows students to take additional regularly scheduled drop-in classes at no charge (does not include master classes). Rehearsals are Friday – Sunday. Please note, fees for uniforms /costumes, master classes, and choreography for performances, concept videos, convention, and competition fees are separate from tuition. Members will re-audition every season. Students have the option to participate in one or both companies.
THE COMPANY
Tuition: $300 a month
Annual fee: $150
Required number of weekly hours: 6
Rehearsal schedule: Friday – Sunday (Some weekdays may be needed)
MDCLV CREW
Tuition: $300 a month
Annual fee: $150
Required number of weekly hours: 6
Rehearsal schedule: Friday – Sunday (Some weekdays may be needed)
BOTH
Tuition: $350 a month
Annual fee: $200
Required number of weekly hours: 9
Rehearsal schedule: Friday – Sunday (Some weekdays may be needed)